The problem – and our solution
In an oxidiser, peaks in concentration cause the temperature in the combustion chamber to increase rapidly, owing to the sudden increase in the amount of oxidisable compounds.
These temperature increases can be prevented by using a control system to add air from outside. This serves to dilute the air being treated, thereby lowering the concentration and the temperature in the combustion chamber.
If dilution is not sufficient, one of the most effective solutions is to install a hot bypass in the combustion chamber. The hot bypass generates a current that flows out directly from the combustion chamber. This current is governed by a control valve, which is regulated by the temperature sensors inside the chamber. When the system receives a high concentration of compounds, the temperature increases excessively and cannot be lowered through dilution alone, the hot bypass control valve will open in order to release the excess energy.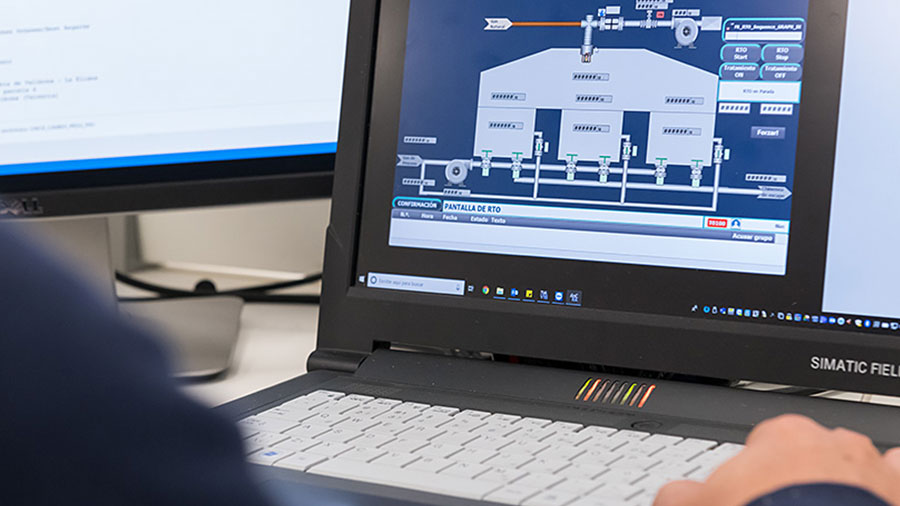 Tecam's tailor-made design
You can always count on tailor-made solutions with Tecam and, where necessary, the development of specific components, software and/or materials. Our technicians engage with every project, using their expertise and knowledge to design customised equipment for each case and customer.
No matter how big or complex the problem, Tecam is the technology partner that will provide you with the solutions you need at all times.
Sectors affected
There are many sectors that can be affected by this problem, particularly those that operate on a non-continuous basis or use batch processes. As their production processes are non-continuous, variations in flow may occur at different points during the day. This is often the case with producers of pharmaceutical products, fine chemicals and paint.
Frequently, tank storage facilities for hydrocarbons also suffer from this problem, although the specifics of each case can vary greatly.
Specialists in the sectors that are most sensitive to environmental impacts
We drive sustainable productivity and innovation for industries with more extensive and more complex needs.