TECAM SERVICES
COMPREHENSIVE PROJECT DESIGN
Service features
Our main objective is to offer you customised and unique environmental technology solutions, covering all stages from planning and analysis to installation and commissioning of the project.
Tecam has a team of professionals with training and experience in environmental technology who can provide tailor-made solutions in all situations and for any type of project. We are specialists in the design and implementation of complex projects, working hand in hand with our clients and partners in the development of highly efficient solutions.
Service users
We design comprehensive projects for large industrial corporations opening or expanding new production plants. The chemical and petrochemical, pharmaceutical and oil & gas sectors with high environmental treatment needs are our main users.
Users with complex and demanding projects and needs; our speciality.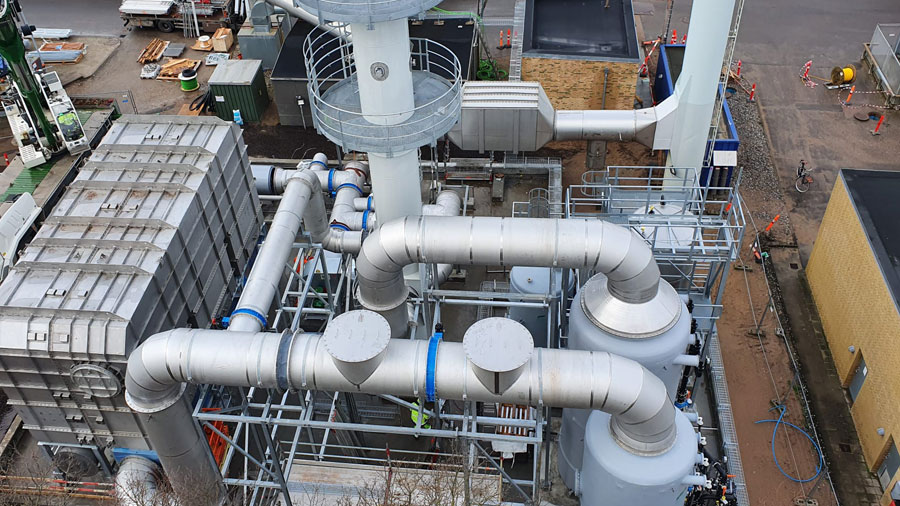 Advantages
Tecam provides customised solutions for the treatment of emissions and pollutant waste, studying in detail all the stages of the project. We have the experience and proven ability to address complex technical and logistical challenges.
Pre-project
Consultancy
Analysis
Research
Engineering
Planning
Project
Design
Manufacture
Pre-assembly and testing
On-site assembly
Start-up
Training and skill building
Post-project
Preventive maintenance
Technical support
Spare parts
Upgrades/renewals
Continuous remote monitoring
Satisfied customers that have placed their trust in us. Heceygo
"We are very happy to have Tecam as our provider of environmental technology solutions. They install the latest technology and only use high-quality components from leading brands in their Regenerative Thermal Oxidation (RTO) systems for the treatment of Volatile Organic Compounds (VOCs). We value their flexibility – which enables them to meet our technical needs – very highly, along with their rapid response and excellent maintenance service.
Tecam is a partner you can trust when it comes to reducing the emission of Volatile Organic Compounds (VOCs) at a production plant. In our case, we have significantly reduced our emissions, and the equipment they installed has worked perfectly since 2008".
Mr. René Martínez | CEO, Heceygo
Auxiliary automotive industry, painting booths.
Consultancy
We prepare studies and develop technological solutions to evaluate or mitigate the impact of your industrial activities on the environment.
Feasibility studies
Make sure you are optimizing your time, budget and technical requirements by identifying risks and benefits.
Updates
We identify possibilities and plan and implement changes without interfering in your plant's production capacity.
Plant operation and maintenance
Our team of experts will ensure the operability of your facilities and guarantee the continued functionality of your production processes.
DO YOU HAVE ANY CONCERNS REGARDING YOUR ENVIRONMENTAL MANAGEMENT?