ENVIRONMENTAL TECHNOLOGY FOR THE PETROCHEMICAL SECTOR
Tecam in the petrochemical sector
We know that in the petrochemical industry, each refinery is unique and different in terms of process integration and the origin of raw materials. Tecam are specialists: we provide you with customised environmental technology solutions for your specific emission and waste treatment needs.
The petrochemical sector and the environment
Cogeneration plants, boilers, heaters and catalytic cracking are the main sources of air emissions of carbon monoxide and dioxide, nitrogen oxides (NOx), particulate matter and sulphur oxides (SOx) from refineries and other petroleum product processors.
Storage and handling of raw materials, gas separation units, fugitive emissions in valves, pumps, etc. together with venting are the main sources of volatile organic compound (VOC) pollutant emissions.
Specific aspects of the sector in environmental treatment
In refineries, part of the air emissions are related to the production of the energy needed to carry out the main production processes. The amount of these emissions depends on the type of fuel burned and the nature of the pollutants in the fuel. The most common are refinery gas, natural gas, waste gas, or combinations of these.
Another considerable part of pollutant emissions is closely related to the storage and handling of raw materials and the finished product.
With Tecam by your side you will have the best environmental technology solution at your fingertips for the production processes (separation, conversion, finishing, auxiliary, storage and product handling) at your refinery.
Pollutants in the petrochemical sector
This sector has high-specification requirements.
Examples of compounds:
Benzene

Styrene

Naphthalene

PM2,5-5-10 (Particulate Matter), etc.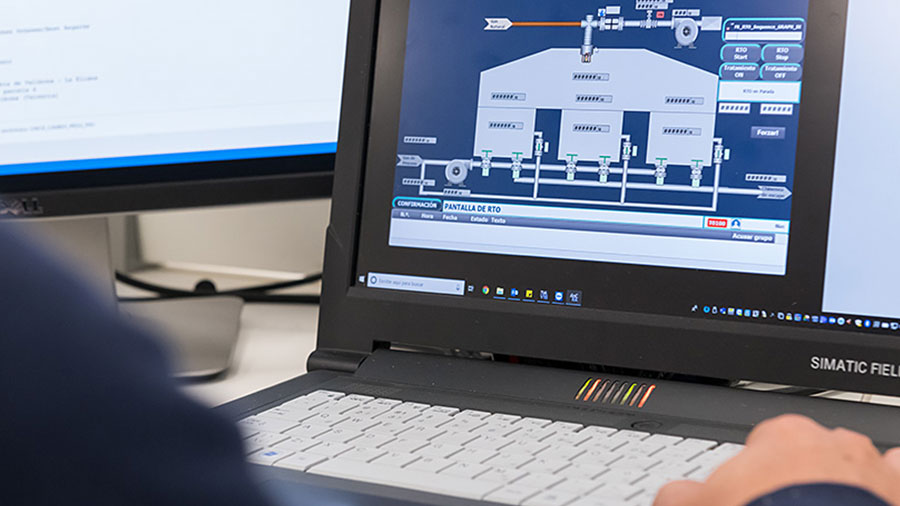 Tecam's tailor-made design
Our technicians engage with every project, using their expertise and knowledge to design customised equipment for each case and customer.
Tecam is the technology partner who will provide you with the solutions you need at all times.
Some examples of Tecam technologies applied to the sector:
Pollutant concentration control systems to reduce the percentage of LEL, still treating gases at high concentrations.
High fire and explosion safety requirements.
Installation of explosion sensors, flame arresters, etc.
Specific control systems.
• Installation of a hot bypassfor the evacuation of high temperatures in the combustion chamber.
Reuse of heat from thermal processes.
SIL requirements for safety controls.
Emission dispersion studies.
Case study: ADNOC
ADNOC is one of the world's leading petrochemical companies, producing more than 40 million tonnes of refined products every year.
Tecam carried out the engineering, installation and commissioning of an incineration plant for NORM (radioactive) waste, along with a flue gas treatment system.
If you would like to find out more about this project, which is unlike any other in the world, you can download the full case study.
Tecam has been awarded another technology project for VOC emissions treatment by a major petrochemical company production plant in Catalonia, Spain. Tecam, a leading supplier of environmental technology, announces that it has been awarded a new project for the...
read more
With Tecam, you'll find the solution to your with polluting emissions problem
With Tecam, you'll find the solution to your with polluting emissions problem
"Lorem ipsum dolor sit amet, consectetur adipiscing elit, sed do eiusmod tempor incididunt ut labore et dolore magna aliqua."
Solutions by technology
"Lorem ipsum dolor sit amet, consectetur adipiscing elit, sed do eiusmod tempor incididunt ut labore et dolore magna aliqua."
Solutions by problem
"Lorem ipsum dolor sit amet, consectetur adipiscing elit, sed do eiusmod tempor incididunt ut labore et dolore magna aliqua."
"Lorem ipsum dolor sit amet, consectetur adipiscing elit, sed do eiusmod tempor incididunt ut labore et dolore magna aliqua."